What is notable is that younger people are more subject to medical debt than older, many of them being covered by their employer's Health Plan.
Although this debt may be of a small amount (56% of adults with current healthcare debt say they owe less than $2,500), the consequences are still severe:
64% put off or postponed getting health care they needed;
among them, 39% did not fill a prescription, cut pills in half, or skipped doses of a medicine,
We call this a "ticking time bomb", since delaying care is a direct threat to people's health, possibly leading to deteriorating health status and hence, to higher claims in the future.
Other consequences an employer should not overlook may affect these persons: 
52% of those insured, aged 18 to 64, say they had to make difficult sacrifices, cutting back spending on basic necessities to pay their debt.
47% of them declared have been contacted by collection agencies, and/or (35%) said their credit score was affected negatively.
For an employer, this means a large share of their workforce probably strained by harrowing problems, and hence less concentrated on their job.
What makes things worse today is soaring inflation, which reached 8.6% in May 2022!
This means on one end employees' disposable income is strained;
Colliding with a "bloody" renewal discussion with the broker or insurer coming soon!
More than ever advisers and employers need solutions to reign in health plan costs.
Let's make it clear: year after year increasing healthcare costs are not a fatality.
There are indeed many proven strategies to reduce costs and premiums, so employees and employers stop overspending on their healthcare claims and health insurance.
At Care2care International for instance, we are providing a complete suite of pharmacy Benefits solutions, from secure international pharmacy mail order program to Patient assistance Programs, and a PBM offer lowering the cost by up to 50%.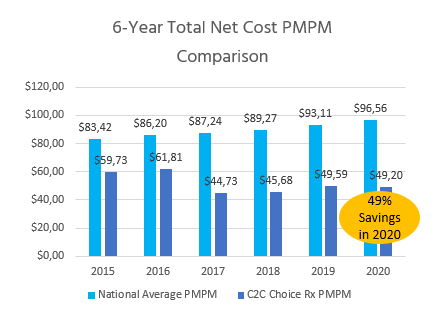 This means reducing total health care costs by 10 to 15% on average!