A recent report issued by the Department of HHS, tracking drug price changes from 2016-2022 established that for 1,216 products the price increases during the twelve-month period from July 2021 to July 2022 exceeded the inflation rate of 8.5 percent for that period. The average price increase for these drugs was 31.6 percent! And some drugs in 2022 increased by more than $20,000 annually or 500%. January and July 2022 saw the highest number of drug price increases in seven years.
On another note, the US government just announced that it imposed penalties in Medicare for 27 drugs for which price increases exceeded inflation. Unfortunately, self-funded employers can't count on that protection.
An appalling situation for employers and their workforce
Surveys regularly show that many employees are "technically uninsured", skipping or cutting doses.
Experts predict that payers will try to respond to these increases by aiming their cost-control efforts at specialty pharmacies: a 2022 survey from the Midwest Business Group on Health (MBGH) confirmed this, showing that high-cost pharmacy claims are the first (94 percent) of the 3 major threats plan sponsors see for 2023, before medical inflation (91 percent) and extremely expensive therapies with FDA approval (91 percent).
But the problem is that there are not many solutions at hand; while drug manufacturers recklessly raise prices, PBMs are making big dollars from their specialty pharmacies, which represent a huge chunk of the BIG 3 PBMs' revenues.
Some employers have nonetheless found some solutions…
Solutions to this problem
1. A growing number of employers are trying "Alternative Funding Programs"
These programs are operated by third-party companies, sometimes secretly linked to PBMs:
some specialty drugs are "carved out" of the plan
patients utilizing them will appear as "technically uninsured";
a third-party company helps eligible patients to apply for a manufacturer or charitable foundation assistance program.
Pharmaceutical Strategies Group (PSG) conducted in mid-2021a survey, of 171 employers, unions, and commercial plans representing 40.4 million covered lives. The report showed that 8% of the surveyed used such programs and 31% were exploring their use.
2. Personal importation is a powerful option
Some employers and millions of individuals have used it for years, especially in the education sector and local and state administrations. Personal drug importation is protected by Congress and Big Pharma tentatives to kill it regularly failed. This was the case with the 2018 massive Opioid Bill, and more recently, during the 2022 FDASLA legislation, in which they tried to "sneak" a poison pill, with no success.
Below are examples of our prices and the resulting savings for the employer and his plan members.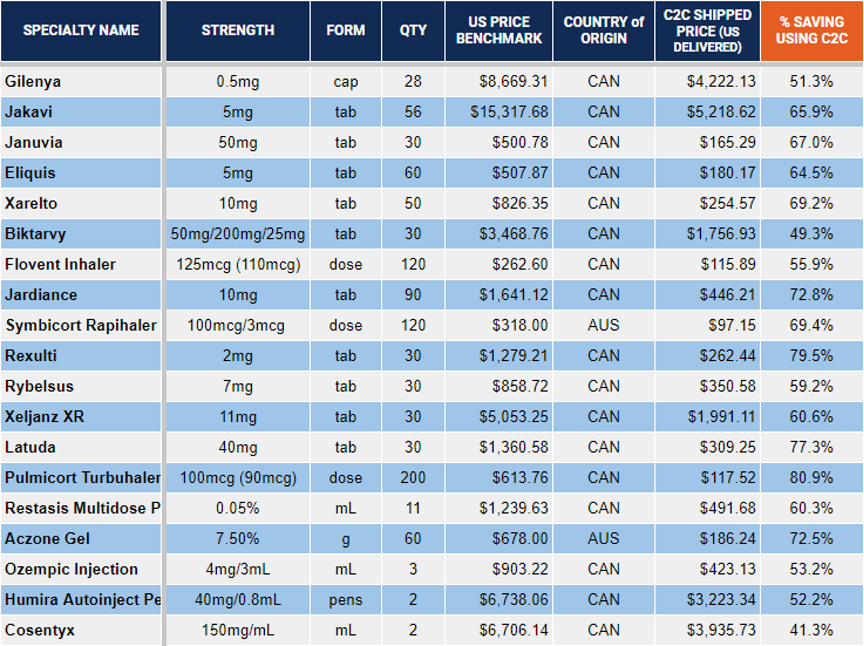 As shown in the table above, Care2care International is now able to offer temperature-controlled biologicals, thanks to expedited shipping using engineered thermal boxes and temperature data loggers. This is important and good news for our clients, since many high-cost drugs are cold injectables.